This article was covered in 2indya, a leading startup website by Vivek Kumar.
Yesterday, I attended this class-room style workshop conducted by Amit Grover, the founder of Nurture Talent Academy in Gurgaon. It was more sort of personal interactive-type workshop where the attending entrepreneurs submitted their questions and doubts, shared their experience and got to know each others.
The workshop started with a casual introduction of attendees and some experts, who happened to the friends of Amit and were there to answer specific questions regarding private equity and venture capital.
After the introduction, Amit asked the attendees to pose the issues that they would like to be answered. These questions to be answered along with the regular agenda of the workshop that Amit himself had set, which included talking about all types of finance related terms in general, and technicalities of valuation and financial statements.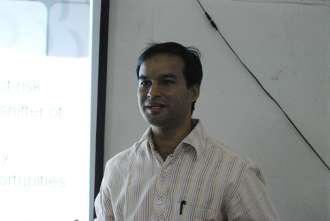 Amit Grover, founder of Nurture Talent Academy
Amit had good slides in his presentation where he showed the life-cycle of a business and what type of funding is available at what level. For example, at the start, seed funding is available from family, friends, colleagues and perhaps some relatives. Later on, angel funding comes into picture, which moves towards venture capitalists. Later private equity, banks and then IPO and acquisitions come in.
A lot of questions were asked about valuation and what to do while approaching a venture capitalist. These questions were amply answered by Amit, and the attendees felt quite satisfied with the knowledge that they got.
At the end, feedback forms were asked to be filled and certificates were given. Overall, on personal note, I felt that the workshop was quite nice because it talked in informal terms like some senior students discussing the issues without any reservations. Too much formalities often ruin the real spirit of any workshop.
Blog business development, entrepreneur, entrepreneurship, small business, startup, ventures, workshop